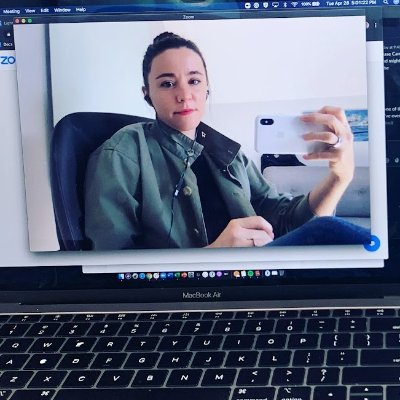 Merci Victoria Grace
Something new. ✨ Startup investor & advisor. Former Head of Growth @slackhq, former VC, former game designer. 🐘 merci@mastodon.cloud

'
20+ Book Recommendations by Merci Victoria Grace
Adrian Tchaikovksy's award-winning novel Children of Time, is the epic story of humanity's battle for survival on a terraformed planet. Who will inherit this new Earth? The last remnants of the human race left a dying Earth, desperate to find a new home among the stars. Following in the footsteps of their ancestors, they discover the greatest treasure of the past age - a world terraformed and prepared for human life. But all is not right in this new Eden. In the long years since the planet was abandoned, the work of its architects has borne disastrous fruit. The planet is not waiting for them, pristine and unoccupied. New masters have turned it from a refuge into mankind's worst nightmare. Now two civilizations are on a collision course, both testing the boundaries of what they will do to survive. As the fate of humanity hangs in the balance, who are the true heirs of this new Earth?span

@alex Children of Time, Children of Ruin, and a forthcoming book in that same series. Incredible stories and really great audiobooks.

@alex Children of Time, Children of Ruin, and a forthcoming book in that same series. Incredible stories and really great audiobooks.

When a couple plans for a child today, every moment seems precious and unique. Home pregnancy tests promise good news just days after conception, and prospective parents can track the progress of their pregnancy day by day with apps that deliver a stream of embryonic portraits. On-line due date calculators trigger a direct-marketing barrage of baby-name lists and diaper coupons. Ultrasounds as early as eight weeks offer a first photo for the baby book. Yet, all too often, even the best-strategized childbearing plans go awry. About twenty percent of confirmed pregnancies miscarry, mostly in the first months of gestation. Statistically, early pregnancy losses are a normal part of childbearing for healthy women. Drawing on sources ranging from advice books and corporate marketing plans to diary entries and blog posts, Lara Freidenfelds offers a deep perspective on how this common and natural phenomenon has been experienced. As she shows, historically, miscarriages were generally taken in stride so long as a woman eventually had the children she desired. This has changed in recent decades, and an early pregnancy loss is often heartbreaking and can be as devastating to couples as losing a child. Freidenfelds traces how innovations in scientific medicine, consumer culture, cultural attitudes toward women and families, and fundamental convictions about human agency have reshaped the childbearing landscape. While the benefits of an increased emphasis on parental affection, careful pregnancy planning, attentive medical care, and specialized baby gear are real, they have also created unrealistic and potentially damaging expectations about a couple's ability to control reproduction and achieve perfect experiences. The Myth of the Perfect Pregnancy provides a reassuring perspective on early pregnancy loss and suggests ways for miscarriage to more effectively be acknowledged by women, their families, their healthcare providers, and the maternity care industry.

@isadwatson The book itself is fantastic! The Myth of the Perfect Pregnancy.

Women who opt not to be mothers are frequently warned that they will regret their decision later in life, yet we rarely talk about the possibility that the opposite might also be true-that a woman who becomes a mother might regret it. Sociologist Orna Donath dispels the silence around this profoundly taboo subject in a powerful work that draws from her years of research interviewing women who wish they had never become mothers.Donath treats regret as a feminist issue- as regret marks the road not taken, we need to consider whether alternative paths for women may currently be blocked off. Donath asks that we pay attention to what is forbidden by our contemporary rules governing motherhood, time, and emotion, including the cultural assumption that motherhood is a "natural" role for women-for the sake of all women, not just those who regret becoming mothers. Donath finds that the women in her study became mothers for a wide variety of reasons- some did so to avoid divorce, exclusion from their family, or alienation from their friends; others did not think about it at all, but accepted it as the "next step" of what society considers to be a normal and natural life course. Others experinced regret despite initially having an strong desire to become mothers. Though they may love their children, these women each describe the agonizing guilt and suffering they have experienced as a result of becoming mothers, and consider the different ways they have each come to recognize and deal with these conflicts.If we are disturbed by the idea that a woman might regret becoming a mother, Donath says, our response should not be to silence and shame these women; rather, we need to ask honest and difficult questions about how society pushes women into motherhood and why those who reconsider it are still seen as a danger to the status quo. Groundbreaking, thoughtful, and provocative, this is an especially needed book in our current political climate, as women's reproductive rights continue to be at the forefront of nationwide debates.

@AlmostMedia There's a book/study called Regretting Motherhood by Orna Donath that's a great starting point. I've found several books on the subject. There were women in Donath's study that were grandmothers and disliked that role, too. Regret is a real possibility to consider.

Have you ever found yourself struggling with information overload? Have you ever felt both overworked and underutilised? Do you ever feel busy but not productive? If you answered yes to any of these, the way out is to become an Essentialist. In Essentialism, Greg McKeown, CEO of a Leadership and Strategy agency in Silicon Valley who has run courses at Apple, Google and Facebook, shows you how to achieve what he calls the disciplined pursuit of less. Being an Essentialist is about a disciplined way of thinking. It means challenging the core assumption of 'We can have it all' and 'I have to do everything' and replacing it with the pursuit of 'the right thing, in the right way, at the right time'. By applying a more selective criteria for what is essential, the pursuit of less allows us to regain control of our own choices so we can channel our time, energy and effort into making the highest possible contribution toward the goals and activities that matter. Using the experience and insight of working with the leaders of the most innovative companies and organisations in the world, McKeown shows you how to put Essentialism into practice in your own life, so you too can achieve something great.

@gefencodes You won't be able to change this behavior in other people, you'll just have to say No much much much more often than you would like to. But there's only one of you and infinity others. 👊❤️ (Also highly recommend reading Essentialism to help.)

Maybe it's the end of the world, but not for Candace Chen, a millennial, first-generation American and office drone meandering her way into adulthood in Ling Ma's offbeat, wryly funny, apocalyptic satire, Severance. "A stunning, audacious book with a fresh take on both office politics and what the apocalypse might bring." —Michael Schaub, NPR.org "A satirical spin on the end times-- kind of like The Office meets The Leftovers." --Estelle Tang, Elle NAMED A BEST BOOK OF THE YEAR BY: NPR * The New Yorker ("Books We Loved") * Elle * Marie Claire * Amazon Editors * The Paris Review (Staff Favorites) * Refinery29 * Bustle * Buzzfeed * BookPage * Bookish * Mental Floss * Chicago Review of Books * HuffPost * Electric Literature * A.V. Club * Jezebel * Vulture * Literary Hub * Flavorwire Winner of the NYPL Young Lions Fiction Award * Winner of the Kirkus Prize for Fiction * Winner of the VCU Cabell First Novelist Award * Finalist for the PEN/Hemingway Award for Debut Novel * A New York Times Notable Book of 2018 * An Indie Next Selection Candace Chen, a millennial drone self-sequestered in a Manhattan office tower, is devoted to routine. With the recent passing of her Chinese immigrant parents, she's had her fill of uncertainty. She's content just to carry on: She goes to work, troubleshoots the teen-targeted Gemstone Bible, watches movies in a Greenpoint basement with her boyfriend. So Candace barely notices when a plague of biblical proportions sweeps New York. Then Shen Fever spreads. Families flee. Companies cease operations. The subways screech to a halt. Her bosses enlist her as part of a dwindling skeleton crew with a big end-date payoff. Soon entirely alone, still unfevered, she photographs the eerie, abandoned city as the anonymous blogger NY Ghost. Candace won't be able to make it on her own forever, though. Enter a group of survivors, led by the power-hungry IT tech Bob. They're traveling to a place called the Facility, where, Bob promises, they will have everything they need to start society anew. But Candace is carrying a secret she knows Bob will exploit. Should she escape from her rescuers? A send-up and takedown of the rituals, routines, and missed opportunities of contemporary life, Ling Ma's Severance is a moving family story, a quirky coming-of-adulthood tale, and a hilarious, deadpan satire. Most important, it's a heartfelt tribute to the connections that drive us to do more than survive.

6 books (current list not fav) 6 tags @ataussig @jeremysliew @_kcwatkins @joshelman @EricaJoy @nabeel I know @TheAtlantic is a magazine. Sixth book is Severance by Ling Ma. https://t.co/UFy6uiACYL https://t.co/YLScPV68CC

Clinical psychologist and author of The Defining Decade, Meg Jay takes us into the world of the supernormal: those who soar to unexpected heights after childhood adversity. Whether it is the loss of a parent to death or divorce; bullying; alcoholism or drug abuse in the home; mental illness in a parent or a sibling; neglect; emotional, physical or sexual abuse; having a parent in jail; or growing up alongside domestic violence, nearly 75% of us experience adversity by the age of 20. But these experiences are often kept secret, as are our courageous battles to overcome them. Drawing on nearly two decades of work with clients and students, Jay tells the tale of ordinary people made extraordinary by these all-too-common experiences, everyday superheroes who have made a life out of dodging bullets and leaping over obstacles, even as they hide in plain sight as doctors, artists, entrepreneurs, lawyers, parents, activists, teachers, students and readers. She gives a voice to the supernormals among us as they reveal not only "How do they do it?" but also "How does it feel?" These powerful stories, and those of public figures from Andre Agassi to Jay Z, will show supernormals they are not alone but are, in fact, in good company. Marvelously researched and compassionately written, this exceptional book narrates the continuing saga that is resilience as it challenges us to consider whether -- and how -- the good wins out in the end.

@pdxmph @lkanies Yeah I feel that. Have you read Supernormal? Might be helpful, it was a revelation for me.

@geoffbelknap I recently read How to Raise an Adult and my jaw was on the floor for the first 1/4, where she talks about the kids who can't do extremely basic things because they're being groomed for Stanford at age 4.

I love to read two semi-related books simultaneously. Now I'm reading River of Consciousness by @OliverSacks and Deep by @MrJamesNestor. They play off each other well: What did we evolve from and what are we capable of? How do we perceive reality? What is our place on Earth?

The ocean's depths contain wondrous biology and clues to unimagined human abilities, as intrepid researchers and athletes are now discovering.

I love to read two semi-related books simultaneously. Now I'm reading River of Consciousness by @OliverSacks and Deep by @MrJamesNestor. They play off each other well: What did we evolve from and what are we capable of? How do we perceive reality? What is our place on Earth?

A provocative analysis of the historically pivotal friendship between the third and fourth presidents offers insight into their complex characters while presenting a sobering assessment of how politics were conducted in the country's early years.

@TR401 Sooo good. I'm also halfway through Madison & Jefferson, a book the author of White Trash cowrote as a dual biography with another historian.

@ashitaa I heard! Did you read the prologue series?

Multiple award winning, #1 New York Times bestselling author Neil Gaiman returns to dazzle, captivate, haunt, and entertain with this third collection of short fiction following Smoke and Mirrors and Fragile Things—which includes a never-before published American Gods story, "Black Dog," written exclusively for this volume. In this new anthology, Neil Gaiman pierces the veil of reality to reveal the enigmatic, shadowy world that lies beneath. Trigger Warning includes previously published pieces of short fiction—stories, verse, and a very special Doctor Who story that was written for the fiftieth anniversary of the beloved series in 2013—as well "Black Dog," a new tale that revisits the world of American Gods, exclusive to this collection. Trigger Warning explores the masks we all wear and the people we are beneath them to reveal our vulnerabilities and our truest selves. Here is a rich cornucopia of horror and ghosts stories, science fiction and fairy tales, fabulism and poetry that explore the realm of experience and emotion. In Adventure Story—a thematic companion to The Ocean at the End of the Lane—Gaiman ponders death and the way people take their stories with them when they die. His social media experience A Calendar of Tales are short takes inspired by replies to fan tweets about the months of the year—stories of pirates and the March winds, an igloo made of books, and a Mother's Day card that portends disturbances in the universe. Gaiman offers his own ingenious spin on Sherlock Holmes in his award-nominated mystery tale The Case of Death and Honey. And Click-Clack the Rattlebag explains the creaks and clatter we hear when we're all alone in the darkness. A sophisticated writer whose creative genius is unparalleled, Gaiman entrances with his literary alchemy, transporting us deep into the realm of imagination, where the fantastical becomes real and the everyday incandescent. Full of wonder and terror, surprises and amusements, Trigger Warning is a treasury of delights that engage the mind, stir the heart, and shake the soul from one of the most unique and popular literary artists of our day.

@evanfuture @neilhimself Yes those were awesome. I read all @neilhimself as soon as it comes out.

@JoshuaFisher Awesome - read and loved the first two. Will look up the others.

Rock star, crowdfunding pioneer, and TED speaker Amanda Palmer knows all about asking. Performing as a living statue in a wedding dress, she wordlessly asked thousands of passersby for their dollars. When she became a singer, songwriter, and musician, she was not afraid to ask her audience to support her as she surfed the crowd (and slept on their couches while touring). And when she left her record label to strike out on her own, she asked her fans to support her in making an album, leading to the world's most successful music Kickstarter. Even while Amanda is both celebrated and attacked for her fearlessness in asking for help, she finds that there are important things she cannot ask for-as a musician, as a friend, and as a wife. She learns that she isn't alone in this, that so many people are afraid to ask for help, and it paralyzes their lives and relationships. In this groundbreaking book, she explores these barriers in her own life and in the lives of those around her, and discovers the emotional, philosophical, and practical aspects of THE ART OF ASKING. Part manifesto, part revelation, this is the story of an artist struggling with the new rules of exchange in the twenty-first century, both on and off the Internet. THE ART OF ASKING will inspire readers to rethink their own ideas about asking, giving, art, and love.

@JoshuaFisher Awesome - read and loved the first two. Will look up the others.

"Why We Sleep is an important and fascinating book…Walker taught me a lot about this basic activity that every person on Earth needs. I suspect his book will do the same for you." —Bill Gates A New York Times bestseller and international sensation, this "stimulating and important book" (Financial Times) is a fascinating dive into the purpose and power of slumber. With two appearances on CBS This Morning and Fresh Air's most popular interview of 2017, Matthew Walker has made abundantly clear that sleep is one of the most important but least understood aspects of our life. Until very recently, science had no answer to the question of why we sleep, or what good it served, or why we suffer such devastating health consequences when it is absent. Compared to the other basic drives in life—eating, drinking, and reproducing—the purpose of sleep remains more elusive. Within the brain, sleep enriches a diversity of functions, including our ability to learn, memorize, and make logical decisions. It recalibrates our emotions, restocks our immune system, fine-tunes our metabolism, and regulates our appetite. Dreaming creates a virtual reality space in which the brain melds past and present knowledge, inspiring creativity. In this "compelling and utterly convincing" (The Sunday Times) book, preeminent neuroscientist and sleep expert Matthew Walker provides a revolutionary exploration of sleep, examining how it affects every aspect of our physical and mental well-being. Charting the most cutting-edge scientific breakthroughs, and marshalling his decades of research and clinical practice, Walker explains how we can harness sleep to improve learning, mood and energy levels, regulate hormones, prevent cancer, Alzheimer's and diabetes, slow the effects of aging, and increase longevity. He also provides actionable steps towards getting a better night's sleep every night. Clear-eyed, fascinating, and accessible, Why We Sleep is a crucial and illuminating book. Written with the precision of Atul Gawande, Andrew Solomon, and Sherwin Nuland, it is "recommended for night-table reading in the most pragmatic sense" (The New York Times Book Review).

@plindberg Bless you for recommending a specific narration - that's make/break for me as well. This book sounds incredible.

During her time working on genre-defining games like The Sims, Rock Band, and Ultima Online, Amy Jo learned that customers stick with products that help them get better at something they care about, like playing an instrument or leading a team. Amy Jo has used her insights from gaming to help hundreds of companies like Netflix, Disney, The New York Times, Ubisoft and Happify innovate faster and smarter, and drive long-term engagement.

It's true! This book is worth 20 articles and 5 books on game design. Worth it to learn how to drive engagement. https://t.co/UkiADAbe9c

How to eat for maximum brainpower and health, from an expert in both neuroscience and nutrition. "Powerful advice on how to eat for maximum brainpower." --Mark Hyman, MD, New York Times--bestselling author of Eat Fat, Get Thin In this eye-opening book, Dr. Lisa Mosconi, a neuroscientist and integrative nutritionist, explains why the dietary needs of the brain are different from those of other organs. Her innovative approach to cognitive health encompasses a complete food plan, including comprehensive lists of what to eat and what to avoid as well as information to help you determine where you are on the brain-health spectrum. Brain Food can help improve memory, prevent cognitive decline, eliminate brain fog, and lift depression. "Incredible." --Maria Shriver "This fascinating book not only reveals the science behind neuro-nutrition, it shows us what we could be eating for maximum brain power." --Sara Gottfried, MD, New York Times-bestselling author of Younger, The Hormone Reset Diet, and The Hormone Cure "An empowering resource for anyone who wants to take their brain health into their own hands (and spoons and forks)." --Kelly McGonigal, PhD, author of The Willpower Instinct, The Upside of Stress, and The Joy of Movement

When I get sick I like to read science and health books. This time is Lisa Mosconi's Brain Food. Fish, berries, and seeds, my friends. 🐟🍓🌰

World-renowned Stanford University psychologist Carol Dweck, in decades of research on achievement and success, has discovered a truly groundbreaking idea-the power of our mindset. Dweck explains why it's not just our abilities and talent that bring us success-but whether we approach them with a fixed or growth mindset. She makes clear why praising intelligence and ability doesn't foster self-esteem and lead to accomplishment, but may actually jeopardize success. With the right mindset, we can motivate our kids and help them to raise their grades, as well as reach our own goals-personal and professional. Dweck reveals what all great parents, teachers, CEOs, and athletes already know: how a simple idea about the brain can create a love of learning and a resilience that is the basis of great accomplishment in every area.

@ln1draw I've been reading a book called Mindset this week that is blowing my mind.

"Long live the King" hailed Entertainment Weekly upon publication of Stephen King's On Writing. Part memoir, part master class by one of the bestselling authors of all time, this superb volume is a revealing and practical view of the writer's craft, comprising the basic tools of the trade every writer must have. King's advice is grounded in his vivid memories from childhood through his emergence as a writer, from his struggling early career to his widely reported, near-fatal accident in 1999—and how the inextricable link between writing and living spurred his recovery. Brilliantly structured, friendly and inspiring, On Writing will empower and entertain everyone who reads it—fans, writers, and anyone who loves a great story well told.

Reading @StephenKing's On Writing and really liking it.

A former international hostage negotiator for the FBI offers a new, field-tested approach to high-stakes negotiations—whether in the boardroom or at home. After a stint policing the rough streets of Kansas City, Missouri, Chris Voss joined the FBI, where his career as a hostage negotiator brought him face-to-face with a range of criminals, including bank robbers and terrorists. Reaching the pinnacle of his profession, he became the FBI's lead international kidnapping negotiator. Never Split the Difference takes you inside the world of high-stakes negotiations and into Voss's head, revealing the skills that helped him and his colleagues succeed where it mattered most: saving lives. In this practical guide, he shares the nine effective principles—counterintuitive tactics and strategies—you too can use to become more persuasive in both your professional and personal life. Life is a series of negotiations you should be prepared for: buying a car, negotiating a salary, buying a home, renegotiating rent, deliberating with your partner. Taking emotional intelligence and intuition to the next level, Never Split the Difference gives you the competitive edge in any discussion.

@inaherlihy reading Never Split the Difference? 😁

Presents a dystopian story in which man lives in an enclosed environment, and those who dare to express the desire to explore the dangerous outside world are forced out into it.

@michellej Have you read the Wool omnibus? It's sooo good holy shit.

@michellej Yes that book was so good and the guy at the (sci fi/fantasy only) bookstore said this new one did not disappoint.