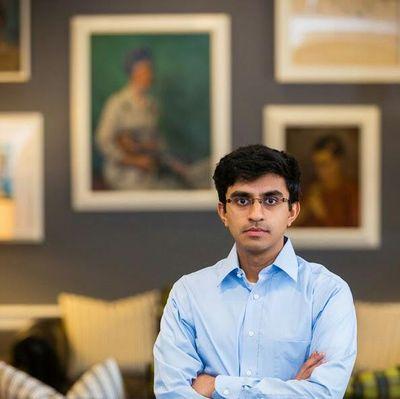 Bharath Ramsundar
Founder and CEO @deepforestsci. Creator of @deep_chem. Author @OReillyMedia. @stanford CS PhD. https://t.co/7LDcegrCsc

'
10+ Book Recommendations by Bharath Ramsundar
This is the fifth, expanded edition of the comprehensive textbook published in 1990 on the theory and applications of path integrals. It is the first book to explicitly solve path integrals of a wide variety of nontrivial quantum-mechanical systems, in particular the hydrogen atom. The solutions have been made possible by two major advances. The first is a new euclidean path integral formula which increases the restricted range of applicability of Feynman's time-sliced formula to include singular attractive 1/r- and 1/r2-potentials. The second is a new nonholonomic mapping principle carrying physical laws in flat spacetime to spacetimes with curvature and torsion, which leads to time-sliced path integrals that are manifestly invariant under coordinate transformations. In addition to the time-sliced definition, the author gives a perturbative, coordinate-independent definition of path integrals, which makes them invariant under coordinate transformations. A consistent implementation of this property leads to an extension of the theory of generalized functions by defining uniquely products of distributions. The powerful FeynmanKleinert variational approach is explained and developed systematically into a variational perturbation theory which, in contrast to ordinary perturbation theory, produces convergent results. The convergence is uniform from weak to strong couplings, opening a way to precise evaluations of analytically unsolvable path integrals in the strong-coupling regime where they describe critical phenomena. Tunneling processes are treated in detail, with applications to the lifetimes of supercurrents, the stability of metastable thermodynamic phases, and thelarge-order behavior of perturbation expansions. A variational treatment extends the range of validity to small barriers. A corresponding extension of the large-order perturbation theory now also applies to small orders. Special attention is devoted to path integrals with topological restrictions needed to understand the statistical properties of elementary particles and the entanglement phenomena in polymer physics and biophysics. The ChernSimons theory of particles with fractional statistics (anyons) is introduced and applied to explain the fractional quantum Hall effect. The relevance of path integrals to financial markets is discussed, and improvements of the famous BlackScholes formula for option prices are developed which account for the fact, recently experienced in the world markets, that large fluctuations occur much more frequently than in Gaussian distributions.

@TheSandyCoder Kleinert's book provides a very thorough but somewhat accessible intro https://t.co/TbAhKBY9em

Here is the first volume of a magisterial biography of Mohandas Gandhi that gives us the most illuminating portrait we have had of the life, the work and the historical context of one of the most abidingly influential--and controversial--men in modern history. Ramachandra Guha--hailed by Time as "Indian democracy's preeminent chronicler"--takes us from Gandhi's birth in 1869 through his upbringing in Gujarat, his two years as a student in London and his two decades as a lawyer and community organizer in South Africa. Guha has uncovered myriad previously untapped documents, including private papers of Gandhi's contemporaries and co-workers; contemporary newspapers and court documents; the writings of Gandhi's children; and secret files kept by British Empire functionaries. Using this wealth of material in an exuberant, brilliantly nuanced and detailed narrative, Guha describes the social, political and personal worlds inside of which Gandhi began the journey that would earn him the honorific Mahatma: "Great Soul." And, more clearly than ever before, he elucidates how Gandhi's work in South Africa--far from being a mere prelude to his accomplishments in India--was profoundly influential in his evolution as a family man, political thinker, social reformer and, ultimately, beloved leader. In 1893, when Gandhi set sail for South Africa, he was a twenty-three-year-old lawyer who had failed to establish himself in India. In this remarkable biography, the author makes clear the fundamental ways in which Gandhi's ideas were shaped before his return to India in 1915. It was during his years in England and South Africa, Guha shows us, that Gandhi came to understand the nature of imperialism and racism; and in South Africa that he forged the philosophy and techniques that would undermine and eventually overthrow the British Raj. Gandhi Before India gives us equally vivid portraits of the man and the world he lived in: a world of sharp contrasts among the coastal culture of his birthplace, High Victorian London, and colonial South Africa. It explores in abundant detail Gandhi's experiments with dissident cults such as the Tolstoyans; his friendships with radical Jews, heterodox Christians and devout Muslims; his enmities and rivalries; and his often overlooked failures as a husband and father. It tells the dramatic, profoundly moving story of how Gandhi inspired the devotion of thousands of followers in South Africa as he mobilized a cross-class and inter-religious coalition, pledged to non-violence in their battle against a brutally racist regime. Researched with unequaled depth and breadth, and written with extraordinary grace and clarity, Gandhi Before India is, on every level, fully commensurate with its subject. It will radically alter our understanding and appreciation of twentieth-century India's greatest man. From the Hardcover edition.

I view Guha's "Gandhi before India" as a sort of parallel to the Ramayana (as Guha makes clear in his foreword). The notion of Gandhi as an analogue to Ram, great but maybe flawed, is very compelling. Also worth reading https://t.co/GrumgI1kbu

The Mahabharata is the more recent of India's two great epics, and by far the longer. First composed by the Maharishi Vyasa in verse, it has come down the centuries in the timeless oral tradition of guru and sishya, profoundly influencing the history, culture, and art of not only the Indian subcontinent but most of south-east Asia. At 100,000 couplets, it is seven times as long as the Iliad and the Odyssey combined: far and away the greatest recorded epic known to man. The Mahabharata is the very Book of Life: in its variety, majesty and, also, in its violence and tragedy. It has been said that nothing exists that cannot be found within the pages of this awesome legend. The epic describes a great war of some 5000 years ago, and the events that led to it. The war on Kurukshetra sees ten million warriors slain, brings the dwapara yuga to an end, and ushers in a new and sinister age: this present kali yuga, modern times. At the heart of the Mahabharata nestles the Bhagavad Gita, the Song of God. Senayor ubhayor madhye, between two teeming armies, Krishna expounds the eternal dharma to his warrior of light, Arjuna. At one level, all the restless action of the Mahabharata is a quest for the Gita and its sacred stillness. After the carnage, it is the Gita that survives, immortal lotus floating upon the dark waters of desolation: the final secret! With its magnificent cast of characters, human, demonic, and divine, and its riveting narrative, the Mahabharata continues to enchant readers and scholars the world over. This new rendering brings the epic to the contemporary reader in sparkling modern prose. It brings alive all the excitement, magic, and grandeur of the original-for our times.

His Mahabharata is quite good too. Perhaps not so vividly beautiful as his Ramayana but it strikes a remarkable balance between faith and realism. Sort of a gritty retelling but one that preserves the magic of the school children versions https://t.co/l5nbeODdTK

The grand Indian epic is translated into lively, vivid English prose in an attempt to bring the great story to life for modern American readers. Reprint.

I recently reread Ramesh Menon's Ramayana after reading it for the first time in college. It's a real classic. My sanskrit isn't good enough to attempt Valmiki, but Menon's reminds me of Kamban at times. Or CSS Lewis or Tolkien https://t.co/yJTeNt7d77

Portrays the life of Gandhi, describes the development of his nonviolent political protest movement, and discusses his religious beliefs

I'm currently reading Gandhi's autobiography. It's fascinating to understand how he looked at the world and thought about social service. Highly recommend it to anyone who hasn't read it already https://t.co/uJ1hUbPvDZ

Something I was struck by reading Liu Cixin's "Ball Lightning", prequel to the three body problem, is that the entire book is about Chinese military innovation in a war with an unspecified power, hinted to be America

In this provocative and illuminating account, Richard McGregor offers a captivating portrait of China's Communist Party, its grip on power and control over China, and its future. China's political and economic growth in the past three decades has been one of astonishing, epochal dimensions. The most remarkable part of this transformation, however, has been left largely untold—the central role of the Chinese Communist Party. In The Party, Richard McGregor delves deeply into China's inner sanctum for the first time, showing how the Communist Party controls the government, courts, media, and military and keeps all corruption accusations against its members in-house. The Party's decisions have a global impact, yet the CCP remains a deeply secretive body, hostile to the law and unaccountable to anyone or anything other than its own internal tribunals. It is the world's only geopolitical rival of the United States, and is primed to think the worst of the West.

Here's a book recommendation for folks interested in learning more about the CCP. Highly recommend for folks in tech https://t.co/E2m4f0D2Fk

Chapter 1: Introduction -- Chapter 2: Integumentary System -- -- Skin and subcutaneous tissue -- Chapter 3: Mammary Gland -- Chapter 4: Haemopoietic and Lymphatic Systems -- -- Blood/bone marrow -- -- Lymphoid system -- -- Lymph nodes -- -- Spleen -- -- Thymus -- -- Lymphoreticular neoplasms -- Chapter 5: Musculoskeletal System -- -- Bone -- -- Joints -- -- Skeletal muscle -- Chapter 6: Respiratory Tract -- -- Nose, nasal sinuses, nasopharynx and pharynx -- -- Larynx and trachea -- -- Bronchi and lungs -- Chapter 7: Cardiovascular System -- -- Heart and pericardium -- -- Systemic blood vessels -- -- Pulmonary blood vessels -- Chapter 8: Gastrointestinal tract -- -- Forestomach -- -- Stomach (glandular) -- -- Small intestine -- -- Large intestine -- Chapter 9: Liver and Pancreas -- -- Liver -- -- Bile ducts, biliary system -- -- Pancreas -- Chapter 10: Urinary System -- -- Kidney -- -- Urinary bladder -- Chapter 11: Male Genital Tract -- -- Prostate gland -- -- Epididymis -- -- Testis -- Chapter 12: Female Genital Tract -- -- Vagina -- -- Cervix -- -- Uterus -- -- Ovary -- Chapter 13: Endocrine System -- -- Pituitary gland -- -- Adrenal gland -- -- Thyroid gland -- -- Parathyroid gland -- Chapter 14: Nervous System and Special Sense Organs -- -- Brain -- -- Spinal cord, spinal nerve roots, peripheral nerves -- -- Eye -- -- Ear -- Subject index

@varma_ashwin97 Been slowly working through this beast for now... https://t.co/1QfpevaI26

In this candid and riveting memoir, for the first time ever, Nike founder and CEO Phil Knight shares the inside story of the company's early days as an intrepid start-up and its evolution into one of the world's most iconic, game-changing, and profitable brands. In 1962, fresh out of business school, Phil Knight borrowed $50 from his father and created a company with a simple mission: import high-quality, low-cost athletic shoes from Japan. Selling the shoes from the trunk of his lime green Plymouth Valiant, Knight grossed $8,000 his first year. Today, Nike's annual sales top $30 billion. In an age of startups, Nike is the ne plus ultra of all startups, and the swoosh has become a revolutionary, globe-spanning icon, one of the most ubiquitous and recognizable symbols in the world today. But Knight, the man behind the swoosh, has always remained a mystery. Now, for the first time, in a memoir that is candid, humble, gutsy, and wry, he tells his story, beginning with his crossroads moment. At 24, after backpacking around the world, he decided to take the unconventional path, to start his own business—a business that would be dynamic, different. Knight details the many risks and daunting setbacks that stood between him and his dream—along with his early triumphs. Above all, he recalls the formative relationships with his first partners and employees, a ragtag group of misfits and seekers who became a tight-knit band of brothers. Together, harnessing the transcendent power of a shared mission, and a deep belief in the spirit of sport, they built a brand that changed everything.

But it's also surprisingly common that good ideas incubate when there isn't overwhelming focus. Reading Phil Knight's "Shoe Dog," I was surprised by how many years Nike ran as a shoestring outfit that was essentially a side hustle

With much success already attributed to deep learning, this discipline has started making waves throughout science broadly and the life sciences in particular. With this practical book, developers and scientists will learn how deep learning is used for genomics, chemistry, biophysics, microscopy, medical analysis, drug discovery, and other fields. As a running case study, the authors focus on the problem of designing new therapeutics, one of science's greatest challenges because this practice ties together physics, chemistry, biology and medicine. Using TensorFlow and the DeepChem library, this book introduces deep network primitives including image convolutional networks, 1D convolutions for genomics, graph convolutions for molecular graphs, atomic convolutions for molecular structures, and molecular autoencoders. Deep Learning for the Life Sciences is ideal for practicing developers interested in applying their skills to scientific applications such as biology, genetics, and drug discovery, as well as scientists interested in adding deep learning to their core skills.

@arshyMA @josephflaherty @deep_chem Check out our book :) https://t.co/8Y6xWP80Cd

Strippers and Flippers . . . or a New Positive Force Helping to Drive the Economy . . . The untold story of Steve Schwarzman and Blackstone, the financier and his financial powerhouse that avoided the self-destructive tendencies of Wall Street. David Carey and John Morris show how Blackstone (and other private equity firms) transformed themselves from gamblers, hostile-takeover artists, and 'barbarians at the gate' into disciplined, risk-conscious investors. The financial establishment—banks and investment bankers such as Citigroup, Bear Stearns, Lehman, UBS, Goldman Sachs, Merrill Lynch, Morgan Stanley—were the cowboys, recklessly assuming risks, leveraging up to astronomical levels and driving the economy to the brink of disaster. Blackstone is now ready to break out once again since it is sitting on billions of dollars that can be invested at a time when the market is starved for capital. The story of a financial revolution—the greatest untold success story on Wall Street:Not only have Blackstone and a small coterie of competitors wrested control of corporations around the globe, but they have emerged as a major force on Wall Street, challenging the likes of Goldman Sachs and Morgan Stanley for dominance. Great human interest story:How Blackstone went from two guys and a secretary to being one of Wall Street's most powerful institutions, far outgrowing its much older rival KKR; and how Steve Schwarzman, with a pay packet one year of $398 million and $684 million from the Blackstone IPO, came to epitomize the spectacular new financial fortunes amassed in the 2000s. Controversial:Analyzes the controversies surrounding Blackstone and whether it and other private equity firms suck the lifeblood out of companies to enrich themselves—or whether they are a force that helps make the companies they own stronger and thereby better competitors. The story by two insiders with access:Insightful and hard-hitting, filled with never-before-revealed details about the workings of a heretofore secretive company that was the personal fiefdom of Schwarzman and Peter Peterson. Forward-looking:How Blackstone and private equity will drive the economy and provide a model for how financing will work. From the Hardcover edition.

@SeyoneC "The King of Capital" is from a few years ago. Steven Schwarzman also recently put out his memoirs. The first is more factual, but the second has a lot of personal color.

Argues that belief in God is irrational, and describes examples of religion's negative influences on society throughout the centuries, such as war, bigotry, child abuse, and violence.

Around the end of high school, I read Richard Dawkins' "The God Delusion". It convinced me religion was a lie. Became a fairly obnoxious freshman atheist who tried to talk all my dormmates out of believing in religion lol

The South India story attempted here is of a peninsular region influenced by the oceans, not by the Himalayas. Yet it is more than that. It is a story of facets of four powerful culturesKannada, Malayalam, Tamil and Telugu, to name them in alphabetical orderand yet more than that, for Kodava, Konkani, Marathi, Oriya and Tulu cultures have also influenced it, as also other older and possibly more indigenous cultures often seen as tribal, as well as cultures originating in other parts of India and the world. With South Indias Malayalam region being (in modern times) the most balanced in terms of religion and also the most literate, its Kannada zone occupying South Indias geographical centre and containing the sites of the Vijayanagara kingdom and also the kingdom of Haidar and Tipu, its Telugu portion the largest in area and holding the most people, and its Tamil part the most Dravidian and possessing the oldest literature, the four principal cultures are, unsurprisingly, competitive. But they are also complementary. This is a Dravidian story, and also more than that. It is a story involving four centuries, the seventeenth, eighteenth, nineteenth and twentieth, yet other periods intrude upon it...

One of the best books I've read recently is "Modern South India" by Rajmohan Gandhi. It covers the history of South India from the 1600s to the 2010s. Lots of interesting facts I hadn't known before https://t.co/9quVMM0IbR

From the bestselling author of Return of a King, the story of how the East India Company took over large swaths of Asia, and the devastating results of the corporation running a country. In August 1765, the East India Company defeated the young Mughal emperor and set up, in his place, a government run by English traders who collected taxes through means of a private army. The creation of this new government marked the moment that the East India Company ceased to be a conventional company and became something much more unusual: an international corporation transformed into an aggressive colonial power. Over the course of the next 47 years, the company's reach grew until almost all of India south of Delhi was effectively ruled from a boardroom in the city of London. The Anarchy tells one of history's most remarkable stories: how the Mughal Empire-which dominated world trade and manufacturing and possessed almost unlimited resources-fell apart and was replaced by a multinational corporation based thousands of miles overseas, and answerable to shareholders, most of whom had never even seen India and no idea about the country whose wealth was providing their dividends. Using previously untapped sources, Dalrymple tells the story of the East India Company as it has never been told before and provides a portrait of the devastating results from the abuse of corporate power.

@apar1984 William Dalrymple's "The Anarchy" is really good!

Traces the history of the struggle for oil in the United States--the individuals involved, the impact of secret deals, the iron-willed tycoons, national strategies, gas lines, and oil gluts

I'm reading the amazing book, "The Prize" about the history of the oil industry. It makes the point that the oil powered car engine dramatically changed war by allowing for rapid troop movements. I suspect that the drone will engender a similar change.

Shortlisted for the 2019 Financial Times & McKinsey Business Book of the Year Award "Superb…Among the best books ever written about an American corporation." —Bryan Burrough, The New York Times Book Review Just as Steve Coll told the story of globalization through ExxonMobil and Andrew Ross Sorkin told the story of Wall Street excess through Too Big to Fail, Christopher Leonard's Kochland uses the extraordinary account of how one of the biggest private companies in the world grew to be that big to tell the story of modern corporate America. The annual revenue of Koch Industries is bigger than that of Goldman Sachs, Facebook, and US Steel combined. Koch is everywhere: from the fertilizers that make our food to the chemicals that make our pipes to the synthetics that make our carpets and diapers to the Wall Street trading in all these commodities. But few people know much about Koch Industries and that's because the billionaire Koch brothers have wanted it that way. For five decades, CEO Charles Koch has kept Koch Industries quietly operating in deepest secrecy, with a view toward very, very long-term profits. He's a genius businessman: patient with earnings, able to learn from his mistakes, determined that his employees develop a reverence for free-market ruthlessness, and a master disrupter. These strategies made him and his brother David together richer than Bill Gates. But there's another side to this story. If you want to understand how we killed the unions in this country, how we widened the income divide, stalled progress on climate change, and how our corporations bought the influence industry, all you have to do is read this book. Seven years in the making, Kochland "is a dazzling feat of investigative reporting and epic narrative writing, a tour de force that takes the reader deep inside the rise of a vastly powerful family corporation that has come to influence American workers, markets, elections, and the very ideas debated in our public square. Leonard's work is fair and meticulous, even as it reveals the Kochs as industrial Citizens Kane of our time" (Steve Coll, Pulitzer Prize–winning author of Private Empire).

I recently read the fascinating book "Kochland". I won't comment on the Koch's politics, but their business empire is fascinating. Focusing on long term growth and careful expansion of existing competencies is very powerful over the course of decades.